Summer vacations are coming to an end a little for everyone, so it's time to think about how to spend the pleasant autumn days.
These months are undoubtedly the best time to rediscover Tuscany, to enjoy the last heat and take advantage of the first cool days. Nature is tinged with a thousand warm and wonderful shades, and you will not be able to give up the romantic atmosphere that is created.
Sweet hilly walks await you, enveloped by the scent of ripe grapes, ready to be picked and processed in Tuscan wineries. You will be able to experience the highlights of the grape harvest, a ritual handed down from generation to generation, thanks to the "open cellars" project, where you can breathe in the typical Tuscan conviviality.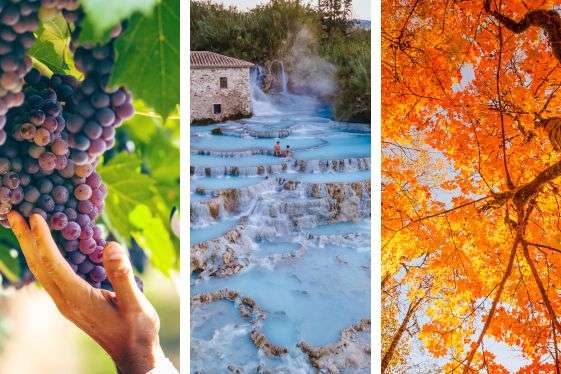 As the days get shorter and the weather gets milder, the sunset becomes the perfect backdrop for a wine tasting accompanied by local products.
In the Chianti and Mugello territories, the villages come alive with fairs and festivals to celebrate the harvesting of mushrooms and chestnuts, to share the harvest season and, last but not least, to share the scents and flavors of this wonderful region.
At Impruneta, right next to the Estate, the characteristic wine festival takes place every year, with entertainment, floats, dancing and music!
The Tuscan hills in autumn are the ideal destination for a short regenerating break, discovering the tradition of this enchanting land. Are you ready to book your stay?
Salva