An area close to our estate, which contains beautiful landscapes, villages to visit and wineries to be discovered to taste the excellent wine accompanied by unrivaled local products.
Today we want to recommend a small tour to get to know this area better, without neglecting details!
First of all, choose the most appropriate time of year: certainly spring and autumn, to avoid the hot sultry days and enjoy the colors that the countryside gives us to the fullest.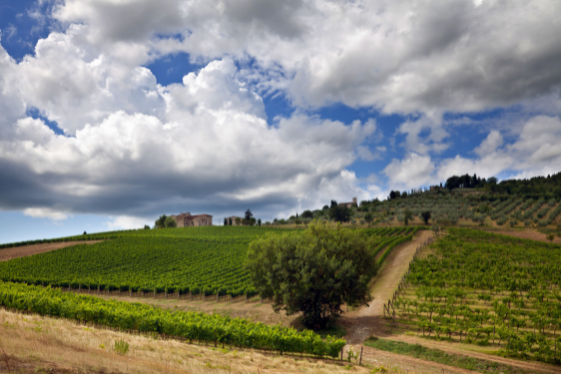 Chianti is an excellent destination for motorcyclists who on the Via Chiantigiana can admire the beauty of the landscapes and stop off in the main villages. For the more sporty, it is also perfect for cycling!
The first village that we recommend is Greve in Chianti, with its Piazza Mercatale where it is easy to find markets, especially on weekends. Under the arcades there are some artisan shops to discover, wine bars and restaurants. Among these, the Falorni Butcher is worthy of a visit, and why not, a tasting of cold cuts and cheeses, accompanied by a good glass of wine.
Not far away you will find Montefioralle, a village with fewer than 100 inhabitants, which offers views worthy of a postcard. It has been included in the list of the most beautiful villages in Italy, so if you are in the area you can't help but visit it!
A few kilometers further on, with the Church of S. Maria and the remains of the ancient castle, is Panzano. Here, too, excellent typical restaurants, with an eye to the Cecchini Butcher if you want to enjoy an excellent Fiorentina steak.
Proceeding towards Siena we find Castellina, with the typical walkway within its walls, Radda, where you can admire the Palazzo del Podestà and stroll through the characteristic concentric alleys and Gaiole in Chianti.
Around this last village there are fairytale castles, dating back to the early Middle Ages, such as the Brolio Castle. Here you can take guided tours, visits to the wine shop with wine tasting and romantic dinners. Outdoor activities and walks in the countryside, ideal for families and children, in which to discover plants, animals and the history of one of the most seductive places in Tuscany.
Now that you have the tour in mind, all you have to do is book your Tuscan holidays! Contact us for more information!
Salva