The month of October immerses us fully in the autumn season, in which we find the first cold and perhaps even a little melancholy.
We start sipping tea and chocolate gathered around the warm fire of the fireplaces, watching from the window the colors of nature change constantly.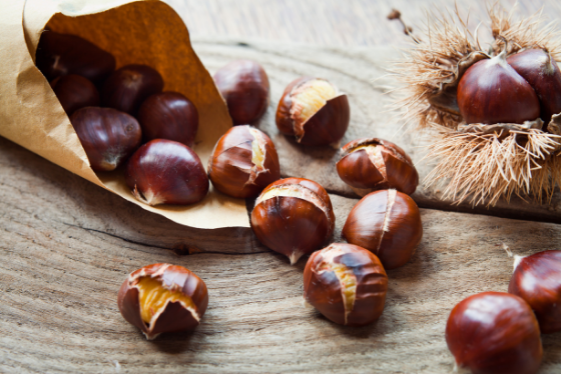 Perhaps we find the pleasure of cooking and sitting at the table to share the typical recipes of our tradition. An ingredient that certainly cannot be missing in this period is chestnut, cooked in all possible variations.
To be more precise, we are talking about the "Mugello brown", an IGP product recognized and protected on the Tuscan hills, which becomes the protagonist of fairs, events and above all… recipes.
From the most common roasted chestnuts, or rather "burned", inevitable at any self-respecting festival, to the "ballotte" or "ballocci" (boiled chestnuts), passing through the pasta prepared with chestnut flour, up to the typical Tuscan recipes , which arrive on the table of every family.
Among the best known we certainly find the castagnaccio, a very popular dessert, prepared without yeast and with few ingredients. Its peculiarity is to combine the sweet chestnut flour with mainly salty ingredients such as olive oil, pine nuts and rosemary. Also noteworthy are the necci, the Tuscan crepes, which are filled according to taste with both sweet and savory ingredients.
In short, if you are a lover of this product, or simply curious to know all its facets, you cannot help but visit Mugello in October. The autumn colors make our hills fascinating and give them an almost magical atmosphere, leaving us in silence to admire them.
Salva